Online only offers New NOW!
2 - 8 oz bottles of cream concentrated cleaner which can be diluted with water to use for cleaning latex, enamel, acrylic and most polyurethanes. The price is $40.00 and includes shipping in the continental U S A click here for quick purchase.
more
$80 includes shipping in the U S A, call or email us to set it up. If you would like to schedule a monthly delivery we can set up a regular shipment. Re-order within 90 days and we pay shipping for the second order. for quick purchase click here.
more
Bristle Magic "Original Formula" and New "Acrylic Blend" AMAZING!
The development team at Bristle Magic is always listening to our customers needs. Some of you have been asking for something a little different but with the same great features of Bristle Magic "Original". That has lead us to this new product that rinses easier and has a little more thickness to hold on to the bristles. Our new product can be dispensed with a squirt from the bottle or a scoop from your jar. We have been working on this new product to bring the power of Bristle Magic to a wider audience. This does not in any way take away from the great original product Bristle Magic which we are continuing to grow. Bristle Magic original formula is now available in USA and UK. We are working to enter Canada, Australia and the EU this year.
Use Bristle Magic "Acrylic Blend" for routine daily cleaning
New formulation for Acrylic painters. Easier rinsing for everyday users, you will save time washing and save water and your brush performance will be amazing.
New Product - Bristle Magic Acrylic Blend
8 oz bottle of new formulation designed for acrylic paint.
Creamy texture is easy to use
Gentle on brushes
Rinses easily with water
Biodegradable
Carbon negative
Works on all paint.
Made in the U S A.
New Products coming in 2023
Bristle Magic Acrylic Blend
First size to release will be the 8 oz bottle look for it at your favorite art supply store. Coming soon in Summer of 23: 4 oz, 16 oz, and 32 oz.
4 oz bottle of Bristle Magic Acrylic Blend
16 oz bottle of Bristle Magic Acrylic Blend
32 oz bottle of Bristle Magic Acrylic Blend
Paint Brush Spa Cleaning Kit
A cleaning set with a container a comb and a loofa.
New Packaging Improvement
New! Packaging Improvement
Try our new 1 gallon bag/bottle. Super excited to cut back on plastic Works great!
In many art stores now. Locally, in the New Orleans area, can purchase at Mo's Art Supply and David's Art Center
online at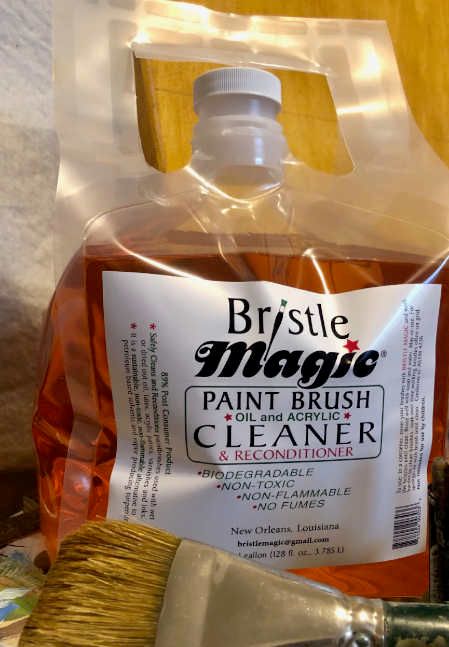 Our newest packaging improvement
In our effort to cut back plastic used for bottling Bristle Magic we are now introducing a new durable 1 gallon bag/bottle to replace the hard plastic bottle. We are excited to explore new ways to reduce our packaging footprint as new options develop.
New Product COMING SOON!!
!NEW!   Release January 2023
8 oz bottle of Bristle Magic Acrylic Blend