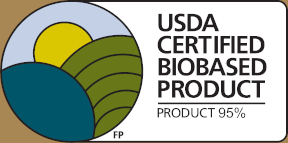 Amazing
5 out of 5 stars.
This product has probably saved me hundreds of dollars in paint brushes. I am super abusive to my paint brushes, but this stuff works like a miracle. Sometimes it takes a little soaking, and a little scrubbing, but it WILL get the paint off of your brushes, even paint thats been dried on for months. Works for acrylic, oil, and watercolor, as well as different varnishes, sealers, and glues. The only thing it does work well for is leather-type paints. It also may not completely remove the color from the bristles, but the paint will be gone. It leaves my paintbrushes softer and less frayed, even if they dry with the bristles all bent.
Ashira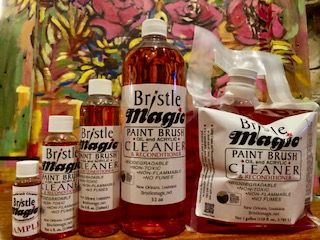 Highly recommended!
5 out of 5 stars.
This stuff works great!!! I used Bristle Magic on a brush that I thought was completely dead and it really came back to life after a good soak. Highly recommended!
—Keith Boadwee
Time saver worth every penny.
5 out of 5 stars.
As a professional artist, I have spent much time to preserve my brushes by meticulously cleaning them. Skeptical about this "magic," I set a small amount of this cleaner in a small dish on my easel tray to change the oil color in my brush. With a few dips of the brush, it wiped clean as new. I am impressed that the "magic" is not an advertising gimmick, but a real gem in its performance. Though there are good brands that sell for less, "Bristle Magic" is a far superior cleaner and time saver worth every penny.
—Mak
Paint flows/transfers to the canvas easier!
5 out of 5 stars.
I've been using this for several years now for cleaning acrylic paint brushes. I do not use it to remove dried paint from the brush but to remove 'wet' paint at the end of a session. (for dried paint on a brush, I 'swish' the bristles in lacquer thinner prior to using Brush Magic). The Bristle Magic solution is absorbed by the bristles and I believe contains a bit of silicon that sheds the paint from the bristle. After treatment, I wash the brush with soap and water. The brushes remain like new with soft and pliable bristles for quite a while. I find that when using a paint loaded brush after Bristle Magic that the paint flows/transfers to the canvas easier. —PeteG
It is truly magic!
5 out of 5 stars.
It keeps my expensive professional-grade brushes is BEAUTIFUL condition! It has NO ODOR and is produced from recycled consumer waste! It is truly magic! I am an oil painter and it cuts through oil paint like nobody's business! I use it in a BrushMate machine. I first tried it because it's non-caustic and I was able to use it in the BrushMate. Now I use it with and without the machine. I can even use it on my hands! Enjoy! Order with confidence – you won't be disappointed! —NotionView